Charles Darwin 1871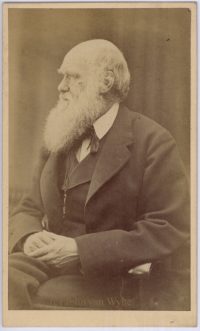 Charles Darwin's Journey
At the age of 22, Charles Darwin set sail on a journey that would transform his life and our view of the natural world. His life experiences provide many stories that can inform, delight and challenge. The world of 19th century Victorian England was not the staid, tightly controlled society that is sometimes portrayed. It was a world of revolutionary changes in social structures, turbulent debates in religious beliefs, and the birth of the sciences we know today. Charles Darwin was a central player in many of these changes. Through it all he was also a dedicated father and husband whose family life was by turns touching and tragic.
This site is dedicated to bringing Mr. Darwin to life. I hope to portray him here as the person he was, more than what you might find if you just read of his scientific achievements. Those achievements occurred in the context of his personal life and the world around him, so to understand Mr. Darwin, you must know of his life.
Invite Mr. Darwin to your classroom, museum, church meeting or event
Prof. Noll portrays Mr. Darwin at in-person or on-line events. He has talked with groups at museums, schools, churches and libraries. He can speak on a variety of topics, many of which are shown on the pages of this website. You can choose from topics in science, history, social sciences, and geography. You may also discuss a topic of your choice with Prof. Noll. He can mingle and carry on conversations with your guests one-on-one or and answer their questions. Whatever format suits your situation. You can view some of his presentations at his FaceBook page, Stories with Mr. Darwin.
To arrange a visit by Mr. Darwin, contact Prof. Noll at noll.ken@gmail.com.
Prof. Kenneth Noll is a retired Professor of Microbiology formerly in the Department of Molecular and Cell Biology at the University of Connecticut. His area of research was the evolution and physiology of bacteria that grow at temperatures up to the boiling point of water.