Charles Darwin 1871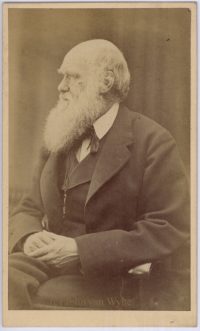 2018 Presentations
*Event is a private function or requires registration
January 12
Dartmouth College, Hanover, NH
"Natural Selection," Evolution class and graduate student lunch
February 3*
Joshua Trust
Darwin's home life and Victorian society, Victorian tea at Atwood Farm
February 10
Darwin Day celebration at the Connecticut Science Center
February 13
"Fools' Experiments in Pursuit of Transmutation and Natural Selection"
UConn Department of Molecular and Cell Biology seminar
March 24
"Morning Tea with Mr. Darwin: Faith, Religion and Science"
10-11:15, UConn campus, Biology/Physics Building Room 130
Charles Darwin's Journey
At the age of 22, Charles Darwin set sail on a journey that would transform his life and our view of the natural world. His life experiences provide many stories that can inform, delight and challenge. The world of 19th century Victorian England was not the staid, tightly controlled society that is sometimes portrayed. It was a world of revolutionary changes in social structures, turbulent debates in religious beliefs, and the birth of the sciences we know today. Charles Darwin was a central player in many of these changes. Through it all he was also a dedicated father and husband whose family life was by turns touching and tragic.
Invite Mr. Darwin to your classroom, museum, church meeting or event
Invite Mr. Darwin for a visit so he can share his experiences with you and your students or guests. As portrayed by Prof. Kenneth Noll, Mr. Darwin can make a presentation to your group or chat informally and answer your questions. He can even mingle and carry on conversations one-on-one. Whatever format suits your situation.
Click on the tabs above to choose a topic for your event. You can choose from topics in science, history, social sciences, and geography. You may also discuss a topic of your choice with Prof. Noll.
To arrange a visit by Mr. Darwin, contact Prof. Noll at the address below.
May 17*
"Charles Darwin's Voyages to New Worlds, Intellectual and Otherwise"
Center for Learning in Retirement, 1:15-2:45, Vernon Cottage, UConn Depot Campus, Storrs
June 9
"Morning Tea with Mr. Darwin: Life and Times of Charles Darwin"
10-11:15, UConn campus, Biology/Physics Building Room 130
August 11
"Morning Tea with Mr. Darwin: Bees, Pigeons, Worms and Orchids"
10-11:15, UConn campus, Biology/Physics Building Room 130
October 20
"Morning Tea with Mr. Darwin: The Big Book"
10-11:15, UConn campus, Biology/Physics Building Room 130
Prof. Kenneth Noll portrays Mr. Darwin. He has been a Professor of Microbiology in the Department of Molecular and Cell Biology at the University of Connecticut since 1990. His area of research is the evolution of bacteria that grow at temperatures up to the boiling point of water. Like all bacteria, these organisms have shared traits with one another through the evolutionary process of gene exchange. High temperature microbes might be similar to the first life on Earth, so these studies can inform us about how life adapted to this new world.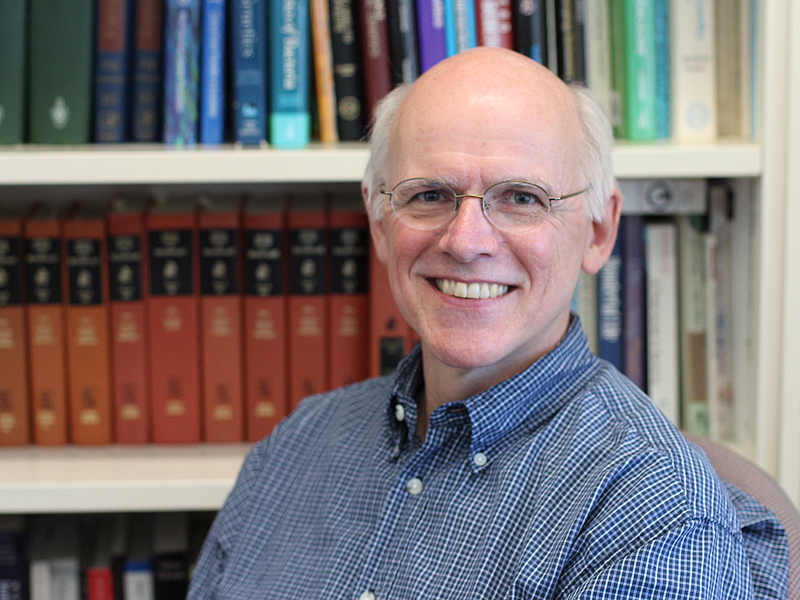 Tea Time with Mr. Darwin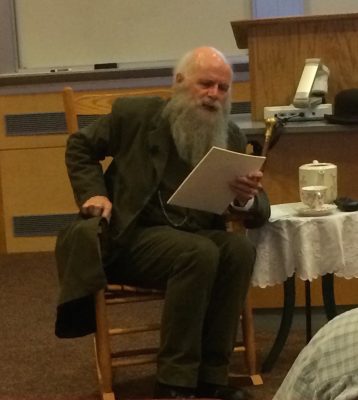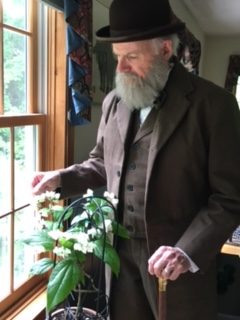 Prof. Noll's portrayal of Charles Darwin is performed in association with the Connecticut State Museum of Natural History located on the campus of the University of Connecticut at Storrs, CT.
To arrange a visit by Mr. Darwin: